Netizens call on PM Imran to improve Pakistan's sports facilities and support young athletes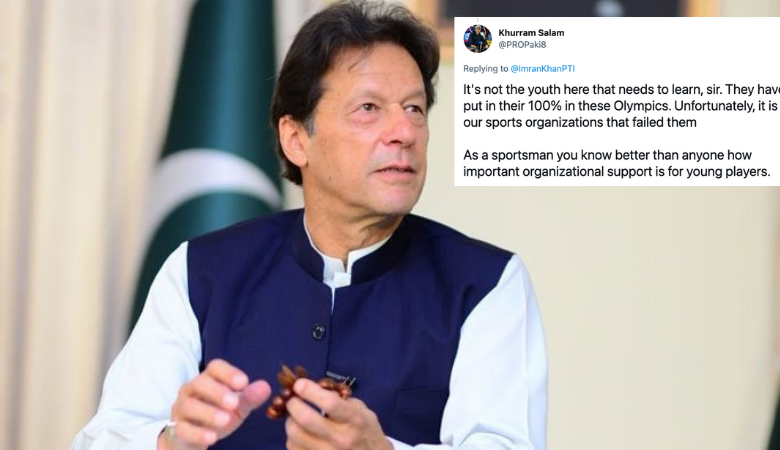 Prime Minister Imran Khan recently posted a motivational video on Twitter and Instagram and while some people appreciated it, others felt he could do more than posting videos about athletes. Many others laughed at the fact that the premier posted a TikTok video when TikTok has been banned in Pakistan for the umpteenth time.
"I want the youth of Pakistan to watch the race and learn the most important lesson that sports taught me: "you only lose when you give up"," the PM captioned a video of Ethiopian-born Dutch runner Sifan Hassan who went on to win a bronze medal for the 1,500-metre women's race. The video showed her tripping during the preliminary race but overcoming it.
Some laughed because TikTok is banned in Pakistan and the premier shared a TikTok video.
But many, many others called upon the PM to increase funding and support for local athletes.
One user called for a level playing field for athletes. It will be very difficult for any athletes to succeed unless their sport is their career but in Pakistan, many athletes must choose between feeding their families and their sport.
Another user called for athletes to be paid.
One user made a fervent appeal to the PM to turn his attention towards sports in Pakistan.
It's not the youth that needs to learn, one user reminded the PM. "It is our sports organisations that failed them."
"This is not what we expected of our sportsman PM," said another user, who said motivation isn't enough.
One user took the PM's message in his stride and said "such lessons can only be learnt once you are part of that process".
Another user asked the PM to congratulate Arshad Nadeem, who is the first Pakistani to ever make it to the Olympic finals.
As a former athlete, the prime minister is well aware of the effort, hard work and facilities needed to make a champion. That's why so many people are calling on him to improve the facilities for our athletes. Arshad Nadeem's story has awakened the collective conscience of the nation and people want more to be done for our budding athletes. They're seeing how much other countries have invested in sports and want the same to be done for young Pakistanis.